Books and Manuals
The three books listed below, written by REACH Education director Rosemary Cathcart, provide teachers with a sensible, informative guide to working with gifted learners, both in the regular classroom and in special group settings. Praised by teachers for their readability and freshness of ideas, they reflect Rosemary's experience over many years in working directly with gifted students of all ages and with their teachers and parents. All the books listed on this page are available in Australia as well as in New Zealand. "Differentiation Made Practical" and "Gifted Programming Made Practical" are also available in the UK. They may also be available through sites such as Amazon.
If you have difficulty obtaining copies, contact us here at REACH - we do not sell books directly, but we may be able to point you to a supplier.
For New Zealand teachers, these books are available through Learning Network using the following links:
www.learningnetwork.ac.nz/product/theyre-not-bringing-my-brain-out-4th-edition/
www.learningnetwork.ac.nz/product/differentiation-made-easy/
www.learningnetwork.ac.nz/product/gifted-programming-made-practical/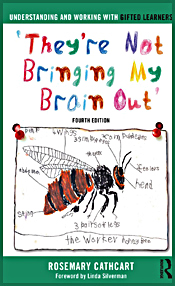 They're Not Bringing My Brain Out
Understanding and working with gifted learners.
This book is written for every-one who lives or works with a gifted child — classroom teachers, GATE coordinators, parents and caregivers, special needs and resource teachers, counsellors and home-schooling families.
Written by one of New Zealand's leading authorities on gifted education, this updated edition extends a text already recognised as an essential guide to this important topic.
This new edition of a New Zealand classic keeps its tradition of strong practical guidance, loads of examples from real lessons and real children's work, and easy-to-follow text, but now adds exciting new material:
A new child-centred definition of giftedness developed for the 21st century
A simplified approach to using differentiation in both the regular classroom and in specialised groupings
Updated research material on identification
Teaching examples expanded to include more material for working at high school level
PLUS a special foreword by internationally renowned expert Dr Linda Silverman.
Click here to read the back story of this book. Order the book here.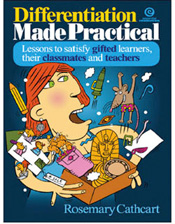 Differentiation Made Practical
Lessons to satisfy gifted learners, their classmates and teachers.
Reviewed by Lynda Garrett, University of Auckland for APEX:
"The title of this book promises plenty and delivers it all! Differentiation can seem to be anything but practical in intent. Beginning teachers often feel they lack clarity in converting key theoretical principles such as content, process and product differentiation into effective teaching and learning opportunities for all students. For those teachers who believe that differentiation means 'extra work', and feel unable to cater effectively for their gifted learners within the 'regular classroom' setting, Differentiation Made Practical is a must." Read the full review here.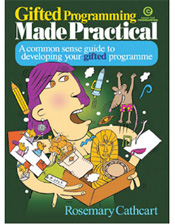 Gifted Programming Made Practical
A common sense guide to developing an effective gifted programme.
Both books reviewed here by Selena Gallagher for the Times Educational Supplement (TESMagazine):
"Meeting the unique and diverse needs of gifted learners within an increasingly crowded and prescriptive curriculum is an ongoing challenge, but these two books aim to make that task a little easier."
See also: Articles, Free Resources